Staying in touch... Recording & Merch
Dave / Season's End, Sunday 21st August 2016
We are making slow progress on album #2. You can see, read & eventually hear updates from Season's End's current recording sessions on our Facebook and YouTube pages:
http://www.facebook.com/seasons.end
http://www.youtube.com/seasonsendofficial
Or email us at info@seasons-end.com
We have just dug through the archives and found dusted off the merch box. We offer the contents to you now for vastly reduced prices. The exception being 'The Failing Light' album which remains full priced - we only have a few of these left and once they are gone then they are gone for good.

Studio time booked
Dave / Season's End, Tuesday 1st September 2009
The recording sessions for the as-yet untitled album #2 from Season's End will begin at Thin Ice Studios in November. We're looking towards a Summer 2010 release. Keep checking this page and our Facebook - we'll keep you updated.
Free 3 track CD
Dave / Season's End, Thursday 30th July 2009
Update to the below [April 2010] - most of these CDs were given out at Bloodstock 2009 but we still have a good handful of these CDs left - the offer is still open!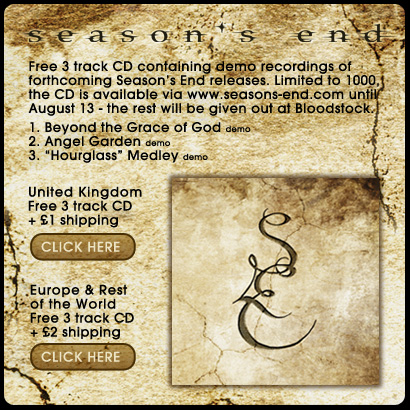 New Show - Saturday 21 March 2009 at The Peel, Kingston
Dave / Season's End, Friday 13th February 2009
We are playing a double headline show with our friends in Haken in March - hope to see some friendly faces there.