Autumn 2006 European Tour T-Shirts
Dave / Season's End, Thursday 5th October 2006

If any of you would like to buy these before we head off on tour then you're welcome to - this way you can ensure you get the size that you need (or buy one at all if you can't make it to one of our tour dates). The mail order price will be ?11 + ?2 postage & packing for the men's and ?10 + ?2 for the ladies' shirts. Send the money to mailorder@evade.info via Paypal and make sure in the comments you mention that it's for the tour shirt & what size you would like. If your order is received while we're on tour (18th October to 29th October) and we happen to sell out of the size you requested then we will get in touch to arrange a different size (or refund you the money if you choose).

News News News
Becki / Season's End, Monday 2nd October 2006

Well, I thought I should let you all know what Season's End are up to at the moment. We've been very busy writing and recording demos of songs for the new album. We are all really excited with the way things are going and we are looking forward to sharing some of what we've been creating with you all on our upcoming tour - both in the UK and in mainland Europe for the first time! Our new album will hopefully be out sometime in 2007, the demos will be completed in a couple of months and then we will look to secure a new recording contract to get things rolling. I hope to see as many of you as possible on the tour.
Becki xx

European Tour Details
Dave / Season's End, Sunday 1st October 2006

Wed 18 Oct @ Stockport Thatched House, UK
Support from The Prophecy & Exoterik / ?5 on the door only / All ages / 7.30pm-11pm

Thu 19 Oct @ Leeds Fenton, UK
Support from Exoterik & The Prophecy / ?4 on the door only / Under 18s accompanied by an adult / 7.30pm-11pm

Fri 20 Oct @ Wolverhampton Little Civic, UK :: Little Civic Tickets
Support from The Prophecy & Celticia / ?5 advance / 14+ / 7.30pm-10.45pm

Sat 21 Oct @ Southampton Joiners, UK :: See / Aloud
Support from The Prophecy, Nephwrack & Apnia / ?5 advance / ?7 doors / 14+ / 7.30pm-11pm

Sun 22 Oct @ Derby Victoria Inn, UK :: See
Support from The Prophecy +1 / ?5 advance / All ages / 7pm-10.30pm

Mon 23 Oct @ London Underworld, UK :: See / Ticketweb / Stargreen
Support from Awake (formerly Humanity) + Innogen / ?7 advance / ?10 doors / All ages / 7pm-10.30pm

Thu 26 Oct @ Cafe Mukkes, Leeuwarden, NL
With The Prophecy & Insanity Reigns Supreme

Fri 27 Oct @ Gazoil Organ, Vreren, BE
With The Prophecy & Insanity Reigns Supreme

Sat 28 Oct @ The Frontline, Gent, BE
With The Prophecy, Pantheist, The Difference, Insanity Reigns Supreme, Adultery, Valkyre, Never Comes Silence & Wanhoop / 2pm

Sun 29 Oct @ De Baroeg, Rotterdam, NL
With Reverend Bizarre, The Prophecy, The Gates of Slumber, Centurions Ghost, Insanity Reigns Supreme & Mary Bell / 2pm / 12 euro

Sun 05 Nov @ Birmingham Edwards No. 8 :: Ticketweb
With Orange Goblin and many more / ?8 advance / ?10 doors / All ages / 4pm-12am


Bloodstock Open Air - 14th & 15th July
Dave / Season's End, Friday 30th June 2006

On Saturday 15th July Season's End will perform at the mighty Bloodstock Open Air festival. Make sure you're in front of the main stage from 2:10pm to 2:50pm to watch SE! We are proud to announce that a friend of the band, David Hobbs of Soul Destruction, will be joining us on stage to add a little bit of cello to our music.
Also on the bill are Stratovarius, Edguy, Turisas, Bal Sagoth, Ensiferum, Metal Church, Rage, Atheist and many more - for more details check out the Bloodstock website.
We have a pair of tickets to BOA to give away courtesey of Vince & Bloodstock. All you have to do is email in to boa@seasons-end.com with your name & address and your answer to the simple question: What was the first year that Season's End played a Bloodstock festival? (The answer can be found somewhere in the live area of our website). There are also great runners up prizes of pairs of half-price BOA tickets and the top 10 entries will receive autographed Season's End posters. The deadline for entries is midnight on Saturday 8th July.






Mailing List

Please subscribe to the mailing list to receive regular updates on Season's End:



Debut Album
'The Failing Light'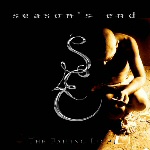 Live DVD 'Ascension'
Out now in the UK